Corporate Governance
Basic Stance on Corporate Governance
In order to respond to the trust placed in us by our stakeholders including shareholders, customers, employees and society, and to achieve sustainable growth and medium- to long-term corporate value, while following the fundamental philosophy and management policies below as our basic principle, the Toyo Tanso Group has built a structure of corporate governance aiming to make transparent, fair, quick and decisive decisions while keeping a balance between management supervision and the execution of duties.
<Fundamental philosophy>
The TOYO TANSO GROUP contributes to the world through the pursuit of the possibilities inherent in carbon(C).
<Management policies>

With the raising of the level of customer satisfaction constituting the predominant theme of management, we shall aim to provide optimal levels of quality, delivery times, costs, and services and engage in corporate activities accordingly.
Through carbon technologies, it is our goal to be a constantly growing, future-oriented corporate group highly trusted by shareholders and the general public.
We are committed to building a rewarding workplace that respects the independence and creativity of employees, encourages employees to have goals, and permits fair evaluations.
Based on compliance with laws and social norms, we shall observe public order as well as contribute to society through conscientious and fair corporate activities.
We shall aim to coexist in a state of consonance with people, carbon technologies, and the natural environment and engage in corporate activities that will contribute to the conservation of the global environment.
The Group is working on the following efforts to comply with the above basic principle and strengthen corporate governance.
The overview of our corporate governance system is as follows:

[Overview of corporate governance]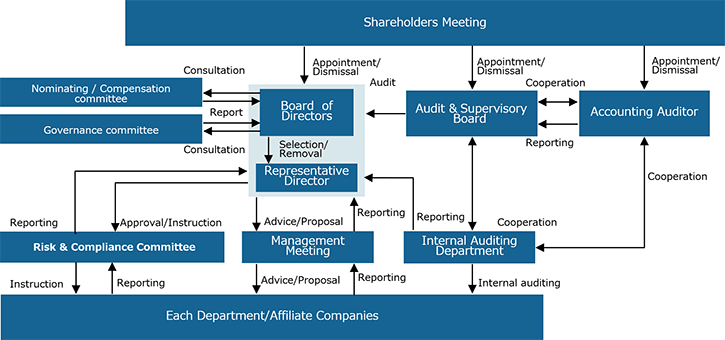 ---
Global Management Governance
The Toyo Tanso Group has built a strong management structure, with its head office taking charge of central management of the management governance of all 16 bases in Japan, North America, Europe, and Asia.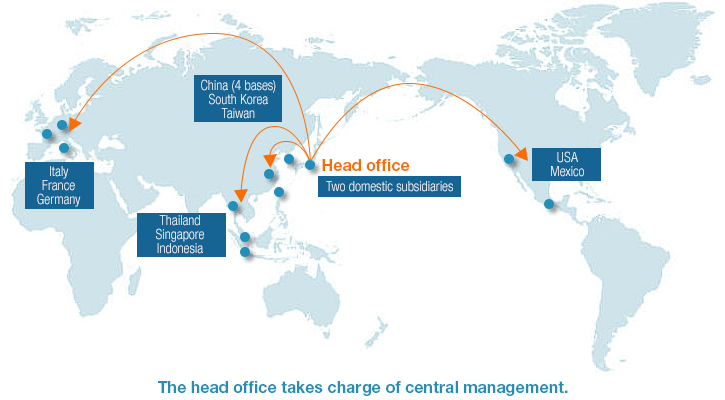 Strengthening the management system for subsidiaries
The subsidiary management department is located at the head office, which manages all aspects of subsidiaries including human resources, legal affairs, accounting, environment, quality, purchase, etc.
Implementation of management based on the subsidiary management standards
We standardize subsidiary management in accordance with the Global Common Management Standards (Management Book).
---
Educational Activities
We distribute two kinds of brochures, "Standards of Conduct" describing employees' conduct guideline and "Compliance Guidebook" explaining laws and regulations to be observed by employees for the purpose of promoting employees' better understanding, and perform educational activities through "Compliance Driving Leader" selected in each department to implement compliance mind into all departments. These efforts have been spread out to both domestic and foreign affiliate companies so that mind sharing has been driven in the group.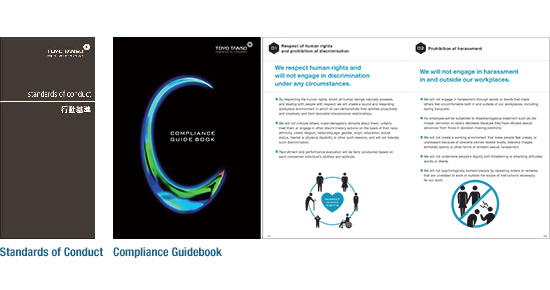 In addition, we perform periodically group training for all employees including new and mid-career employees and specific training for officers or managers. We also perform educational activities such as trainings on various kinds of specific issues including export control, information security, mental health, time management or leadership.


---
Whistle-Blowing System
We establish "Help Line" as a contact point to receive consultation about problematic actions or behaviors from the view point of compliance or corporate ethics. We set up two points, both inside and outside company, to receive broad-ranging consultation. We make an appropriate response to consultation after making investigation and examination, and feed its results back to consulter.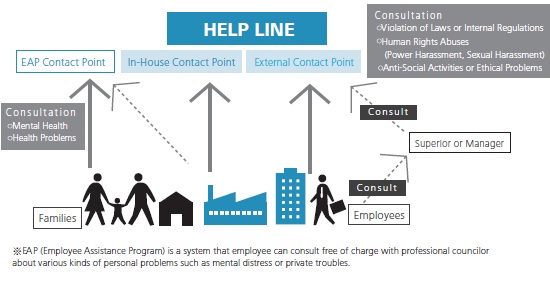 | | |
| --- | --- |
| * | EAP(Employee Assistance Program) is a system that employee can consult free of charge with professional councilor about various kinds of personal problems such as mental distress or private troubles. |