2018.07.19
Toyo Tanso Co., Ltd. (hereinafter called "Toyo Tanso") held the completion ceremony on June 29 for the new plant building of the graphite sheet (PERMA - FOIL ™) at the Takuma Plant. In response to growing demand in the fields of semiconductor manufacturing processes, protective materials for electric vehicles (EV), etc., Toyo Tanso not only enforce production capacity of graphite sheet products, increase production by approximately 20%, but by advancing automation, improve production efficiency and reduce the burden of employees . Toyo Tanso aim to expand our high-performance materials business including graphite sheet (PERMA-FOIL™) by implementing growth strategies such as strengthening production capacity and sales structure according to customer's needs.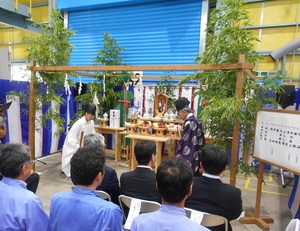 The completion ceremony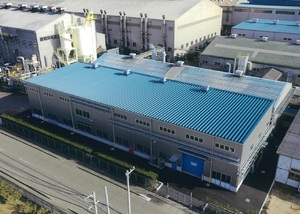 The new plant building
Graphite sheet PEMA-FOIL ™ products
Background of Investment
Graphite sheet PEMA - FOIL ™ has been adopted as a sealing material for automobile parts or parts of the semiconductor manufacturing process, but as it has been expected to expand its use in the future, such as protective materials to prevent ignition of lithium ion batteries for electric vehicles (EV) , Toyo Tanso decided to expand the manufacturing capacity. Toyo Tanso will build a new building (total floor space of about 1100 square meters) next to the existing factory and introduce one large line. Existing lines that are compatible with production of small quantities of various types will be diverted for prototyping in the future, aiming to speed up from development to commercialization.
【Related Link】