Continuous Casting Possessing excellent thermal durability and able to resist wetting by molten metals, graphite is employed in casting molds and peripheral components for a variety of metals.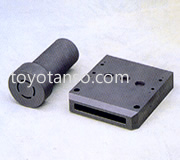 Due to its ability to resist wetting by molten metals, graphite is used as a mold material for strip dies, tubular dies, and other molds used in continuous casting processes for copper and copper alloys (brass, bronze, and nickel silver), aluminum alloys, cast iron, precious metals, and a variety of other metals.

Graphite can be used with different continuous casting methods (horizontal/vertical) and can be produced in a variety of ingot shapes (including plates, strips, pipes, rods, wire, and contoured shapes).
With a wide range of grades available, Toyo Tanso can select the optimal grade for a variety of cast metals and alloys.

We also maintain thorough control of quality, cost, and delivery dates through an integrated production system from materials to finished items that delivers consistent-quality cast products.
Carbon products are also used in melting crucibles, stoppers, tundishes, sliding plates, and other peripheral components as well as in carbon brushes for rolling and winding machines and a variety of other processes.