Possessing good conduction properties and excellent wear resistance, Toyo Tanso's carbon Sliders can contribute to lessen damages or wears of trolley wire.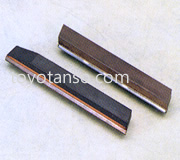 Pantograph sliders are indispensable parts for electric train in their collectors on top of pantographs to collect electrical current by contacting with trolley wire.

Not only electrical conductivity, wear resistance, and arc resistance property, Slider is required the performance to bear harsh weather condition in outside.

Copper-alloy-impregnated carbon sliders which Toyo Tanso developed succeed the lubricity improvement comparing to another kind of slider and realize to reduce Maintenance cost.

Due to this fact, Toyo Tanso's carbon slider is employed in JR regular lines, Japanese private railways or so.