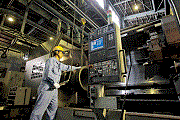 24-hour centralized control system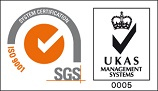 All domestic plants acquired ISO9001 certification
We have performed exhaustive TQC activities, leading to many favorable results and confidence in the quality of our products.
In 1996 the Takuma Division acquired ISO9002 certification, and in 1998 TOTANKAKO CO.,LTD. acquired ISO9001 certification. The Takuma Division, Toyo Tanso Technology Center (Former Ohnohara Engineering and Development Center), and Iwaki Plant all acquired ISO9001 certification in October 2003, continuously, the Hagiwara Plant in May 2004, Owada Carbon Industrial Co., Ltd in January 2006.
The excellence of the quality assurance system used by Toyo Tanso was recognized with the awarding of these international standards.