Application
Toyo Tanso's special graphite products are highly regarded for their excellent performance and reliability and are used across a wide range of fields that are essential in our everyday lives.
In the environmental and energy industry, our products are used for solar cell manufacturing, atomic power and aerospace applications.
In the electronics industry, we provide materials for various manufacturing process such as polycrystalline silicon and single crystal silicon, white LEDs, and high-frequency device.
Basic applications of our products include industrial furnaces, continuous casting dies such as those for copper alloys, optical fibers, and EDM electrodes for mold manufacture.

Electronics
For production of silicon monocrystals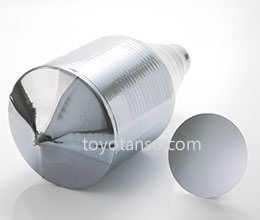 Silicon Ingot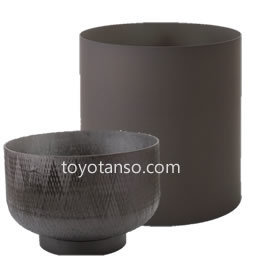 Crucible and Shield
Silicon wafers are the raw material used for IC chips. The manufacturing process involves an extremely high melting temperature of 1,500℃. As wafer diameters continue to increase, C/C composites are gradually becoming a popular alternative to isotropic graphite because of their high heat resistance and lightweight construction.

・Products can be made with thinner walls, making it possible to pull up larger diameter crystals with smaller equipment.
・Designs can handle differences in thermal expansion during quartz crucible and silicon solidification processes by adjusting the fiber orientation.
General industrial furnaces
For heat treatment furnaces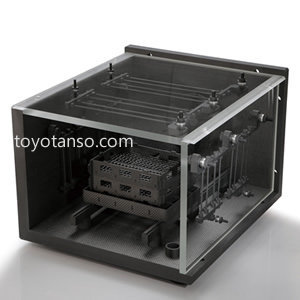 C/C composite is a carbon-carbon composite material reinforced by high strength carbon fiber for improving mechanical strength and thermal shock resistance. C/C composite is a high-strength lightweight material suitable for heat treatment trays. C/C composite's density is only 1/5 of steel, so C/C trays are much easier to handle. Also, it is about 10 times stronger than steel at 1000℃ and there is no thermal deformation. Because of these excellent features, C/C composite trays realize process capacity increase and running cost reduction.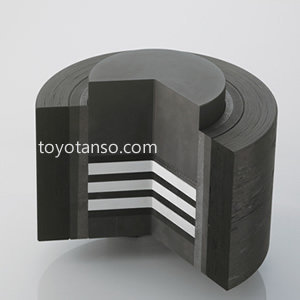 Capable of withstanding high molding pressures, high-strength C/C composites with superior heat and thermal shock resistance are used as dies in hot press equipment for sintering materials in the production of fine ceramics.

• Equipment can be kept smaller, helping to reduce installation costs.
• Sintered material sizes can be kept larger, helping to improve productivity.
• Heat capacity and energy costs can be reduced.
Toyo Tanso's C/C composites are now being used in aerospace applications that require durability in harsh environments and high-precision processing!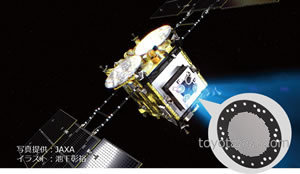 The Japan Aerospace Exploration Agency's (JAXA) asteroid probe "Hayabusa2", launched in December 2014, succeeded to return to the earth with delivering asteroid dust samples on December 6 last year. This news attracted attention not only in Japan but also overseas.
Our C/C composite is used in the ion engine that will be the propulsion power for Hayabusa2. It was a big challenge for us because many small holes had to be machined in the thin-walled disk, which required extremely high dimensional accuracy.
Environment and Energy
For production of silicon for solar cells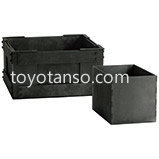 Rectangular crucibles
For nuclear energy plants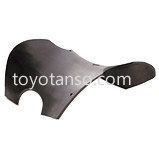 Armor tiles
Automobiles, other means of transport, etc.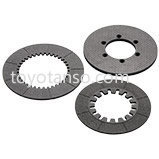 Clutch