Message from the President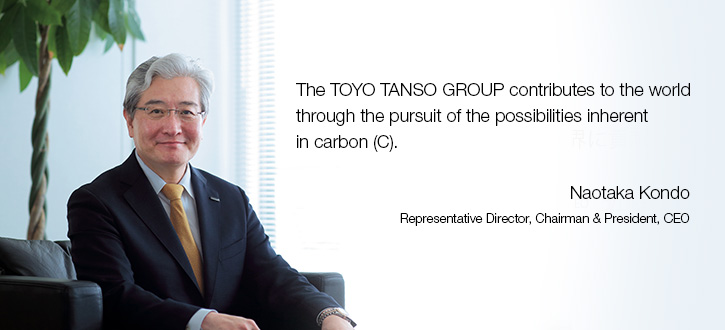 Overview for the first half of the consolidated fiscal year
During the first half of the consolidated fiscal year under review, the economy slowed rapidly due to the spread of COVID-19. The business environment surrounding the Group was extremely difficult as demand in the transportation equipment market including automobiles and aircraft, the semiconductor market, and the energy-related market fell substantially.
In this environment, the Group devised a wide range of measures to minimize the impact of the stalled economy, while always prioritizing the safety of its employees, customers, and the local community as its first objective. In addition, the Group looked ahead to medium- and long-term growth after COVID-19 has abated, and moved ahead with initiatives to reinforce high value-added products, improve productivity, and develop new products and new businesses.
At present, the Group, including consolidated subsidiaries, has continued its business activity at all sites, with employees working from home at some sites in line with the directives and requests of governments and local governments. Manufacturing activity is being carried out generally in line with plans both in Japan and overseas.
As a result, in the first half of the consolidated fiscal year under review, net sales were 15,514 million yen (down 19.0% year on year). On the income side, operating income fell 34.7% to 2,063 million yen, ordinary income fell 31.3% to 2,105 million yen, and profit attributable to owners of parent stood at 1,461 million yen, down 36.5%.
Future outlook
With respect to our future outlook, the impact of the spread of COVID-19 made a reasonable calculation of earnings forecasts difficult, and thus we had left them undetermined; however, we have since decided to announce consolidated earnings forecasts based on currently available information.
Due to the lifting and relaxing of regulations and restrictions in various countries following the spread of COVID-19, economic activity has gradually restarted, presenting the prospect of a recovery, albeit gentle, in the global economy. While the correction in the semiconductor market has eased somewhat, markets related to transportation equipment, such as vehicles and aviation, remain sluggish, and we believe that a full-fledged recovery in general industry will take time.
Considering the sharp decline in the order backlog for the Group at the end of the second quarter and other factors, we assume that the situation will remain difficult in the third quarter and beyond, and that there will be a moderate recovery in demand from next fiscal year onward.
Based on the above-mentioned situation, we expect net sales of 30,000 million yen(down 17.6% year on year), 3,200 million yen(down 38.2%) in operating income, 3,200 million yen(down 38.6%) in ordinary income, and 2,200 million yen(down 25.3%) in profit attributable to owners of parent in the fiscal year ending December 31, 2020.
We thank you, our shareholders, for your continued support.
September, 2020