Medium-Term Management Plan
The Company is working as one on the initiatives to achieve the 2018-2022 Medium-Term Management Plan TVC 2022.
Significance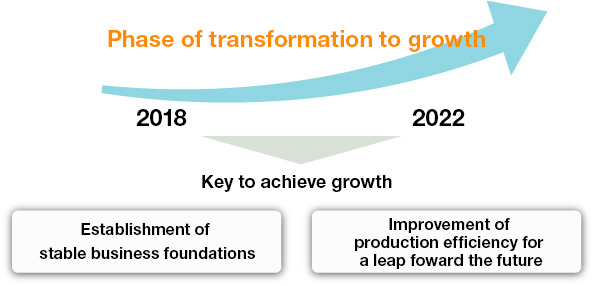 Vision over the medium to long term
Establishment of pillars for growth and enhancement of the earnings platform
Establishment of a consistent portfolio
Leap taward becoming a global company
Key initiatives
Establishment of management foundations
Establish a balanced portfolio over the medium to long term without depending on a certain target in each segment such as area, market, application, product, and customer.
Enhancement and innovation of production technology
Raise the level of production through tangible and intangible approaches, including automation of production facilities, introducing AI, upgrading aging equipment, improving processing techniques, and human resource development.
Reinforcement of overseas expansion efforts
Differentiate ourselves from other companies by having out application engineers provide total support from design through techniques. Also promote strengthening the production capacity and sales of highly value-added products by improving production technologies and skills at overseas subsidiaries.
Targets Figures (2022)
| Net sales of at least | Operating income of at least | ROE of at least |
| --- | --- | --- |
| 50 billion yen | 8 billion yen | 8% |
The driving force to achieve the above targets is our main existing businesses.
In addition, we are currently seeking alliances and M&A opportunities focused on carbon-related business/technology with plus-alpha potential.
Capital investment plan (Cumulative total for 2018-2022)
Investment on the scale of 30 billion yen (Mainly in existing and independent domains)
Divident
Keeping a balance between profit distribution and capital investment for growth, we aim to achieve stable dividend increases with a background of ongoing profit gains.