Toyo Tanso provides a wide range of graphite materials for EDM.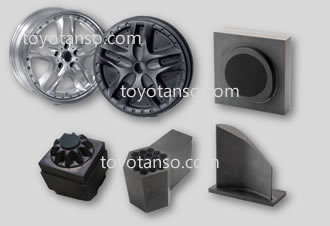 Graphite materials are widely utilized as EDM electrodes for fabricating molds for die-casting, plastics, and more.
Graphite electrode materials for EDM are widely used as EDM electrodes in the manufacturing process of various molds, such as plastic molds, die-casting molds, forging molds, and press molds, from large to small precision ones. 
Compared to copper electrodes, graphite electrodes have excellent machining performance and do not produce burrs, making it possible to increase speed in both machining and EDM.
In this way, graphite electrode materials for EDM can greatly contribute to cost reduction and quality improvement as well as lead time reduction in a wide range of markets from mold manufacturing to parts processing.
Features
Light-weight
Good workability enable to speed up machining
Lower burrs
Enable ultraprecision machining and micromachining
Advantages of Graphite electrode (Compared with copper)

Advantage in electrode machining process
1. No burr generation
No burrs are generated during graphite machining, eliminating the need for deburring work required with copper. Therefore, automation is possible.
2. Reduced machining time
Compared to copper, graphite has a cutting resistance of about 1/5 to 1/10, which provides good machinability and reduces machining time.
In addition, it can be processed with small-diameter end mills and integrated electrodes can be manufactured.
3. Light weight and easy handling
The weight of graphite is about 1/5 of copper, making it easy to handle.
4. Capable of fine shape machining
Graphite has lower cutting resistance than copper, and residual stress generation can be suppressed, so it is less deformation even in fine shapes.
Advantages in EDM
1. Shorter processing time
Graphite has excellent heat resistance and can carry a higher current than copper, which can reduce the machining time by 30-50% or more.
2. lower wear
Due to the excellent heat resistance of graphite, wear caused by heat during discharge is lower than that of copper.
3. Reduction of discharge time by integrating electrodes
Graphite, which can be machined with an integrated electrode, can reduce EDM time compared to copper (which requires a split electrode).
4. Less thermal deformation
The coefficient of linear expansion of graphite is about 1/4 that of copper, which means that it is less likely to be deformed by heat and has excellent dimensional accuracy.
Graphite material for Ultra fine EDM electrodes : TTK series
The TTK grade developed by Toyo Tanso has an ultra-fine particle structure of micron order.
This feature enables sharp edges, reduced electrode wear, and improved surface roughness and surface accuracy in electrode cutting, wire EDM, and die-sinking EDM, which could not be achieved with conventional graphite materials.
1. Enable micromachining : No bent even with ultra-fine pin such as Φ0.0019 inch
2. Reducing Machining Time : Comparing to metal, good workability enable to speed up machining
3.No Burrs : Since no burrs are generated during cutting, can be used for EDM immediately after machining
4. Less Deformation : Graphite electrodes do not deform due to cutting resistance or heat during EDM like metal, so accurate EDM processing is possible

Lineup of graphite materials for EDM
Toyo Tanso offers a wide range of EDM materials, from rough processing to precision processing, to meet the various needs of our customers.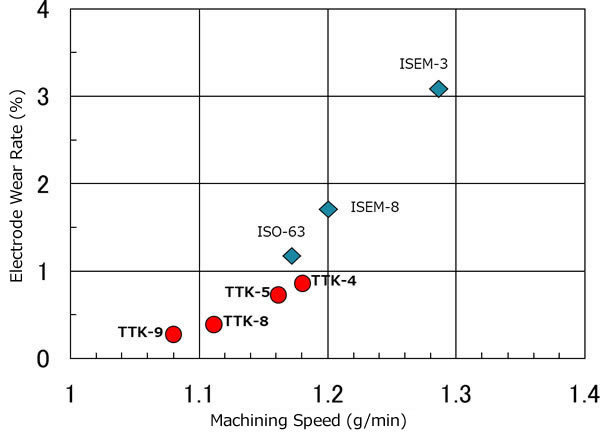 Physical Properties (Typical)
| Grade | Microstructure | Average Grain size(μm) | Bulk Density(Mg/m3) | Hardness(Shore) | Electric Resistivity(μΩm) |
| --- | --- | --- | --- | --- | --- |
| ISEM-8 | | 8 | 1.78 | 63 | 13.4 |
| ISO-63 | | 5 | 1.78 | 76 | 15.0 |
| TTK-5 | | 4 | 1.78 | 80 | 15.5 |
| TTK-9 | | 2 | 1.77 | 90 | 18.0 |
1. The figures above are typical values, and are not guaranteed.
2.For the size, please refer to the property data of isotropic graphite.