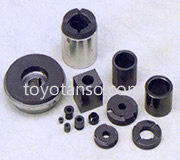 Toyo Tanso can propose the ideal carbon material with excellent sliding properties and good wear, leakage, and corrosion resistance, to match usage conditions (atmosphere, temperature, and PV value).
As sliding parts in machines are prone to heat build-up, vibration, and abnormal noises, lubricants such as grease are commonly used. However, because carbon materials have self-lubricating properties and a low coefficient of friction, they do not require lubricants.
Carbon materials are particularly effective in high-temperature atmospheres where common metals and ceramics cannot be used, when submersed in fluids such as chemicals, and in fields where the use of lubricants is avoided.
Major products include:
(1) Bearings
Used to support runout and loads on rotating shafts . Used extensively in a variety of pumps including underwater pumps, process pumps, chemical pumps, and hot water circulation pumps.
(2) Seal rings and packing
Used to seal gases and liquids in a diverse range of products including mechanical seals, rotary joints, compressors, and ball valves.
(3) Vanes
Used in vacuum pumps and air blowers as partition plates that blow gas or create a vacuum.
To improve wear and seal resistance, carbon substrates can be impregnated with resin and antimony or similar metals. In addition, Toyo Tanso can also supply other products such as SiC/C composites, special treated products with even higher thermal durability, and coatings that prevent dust on carbon surfaces.